News archive 2018
December 31, 2018
From old to new!

Everyone who has followed this news page knows that a lot has changed at Delta Music Belgium over the past year. The term 'from old to new' does not only refer to the transition from 2018 to 2019, it refers even more to the evolution that took place in 2018 in the studio.
First and foremost the old Pro Tools | HD system was finally replaced by Pro Tools | HDX, the DSP processing power of Pro Tools was approximately tripled. The largest Pro Tools sessions are now possible as a result.
Also the old faithful digidesign ProControl was finally replaced by a RAVEN Core Station with touch-sensitive displays and the 55 "SONY LED TV in the Pro Tools | HDX Control Room was replaced by a 65" SONY LED TV with 4K UHD Premium, HDR and 3D. The old 55 "was placed in the Recording Room to be able to display images there + the idea is also to work with cameras so you can see the Pro Tools | HDX Control Room in the Recording Room and vice versa, as a virtual studio window.
As a highlight in the past year, however, there was also a completely new GENELEC monitoring system installed consisting of no less than 13 GENELEC Smart Active Monitors (SAM ™) including 9 from the 'The Ones' series. These were calibrated with the 'GENELEC Loudspeaker Manager' (GLM ™) software for a neutral linear sound reproduction.
And my synthesizer collection was also nicely extended with an ARTURIA Matrix Brute, a waldorf QUANTUM and a Sequential Prophet X. Also the arrangement of most synthesizers in the Control Room was changed by placing them on the sides on Jasper racks.
Soon the first pictures of the newly decorated Pro Tools | HDX Control Room will also appear on this website.
Actually there is also another synthesizer on the way... and it is a very exclusive 'boutique' analogue synthesizer...
The only thing I want to say about it now is that it is currently being built by hand in France and I am one of the 20 lucky ones who will receive one (and then there are only 42 in the world).
But more news about this in the coming months.
I wish everyone a happy and joyful 2019!
December 6, 2018
New in my synthesizer collection:

Samples by
Sequential - Prophet X

At the end of September 2018 I bought a 2nd Roland V-Synth GT (second-hand). I still consider the Roland V-Synth and V-Synth GT to be the best digital synthesizers with sampling capabilities that I have,so having a V-Synth and 2 V-Synth GTs available at that time was a logical (and also very tempting) choice to make.
The Sequential Prophet X was not yet available in Europe, although I did know that it existed and was available for several months in the USA. But at first I was not interested because I associate the old Sequential Cicuits and the later DSI (Dave Smith Instruments) with analogue synthesizers and not with digital symthesizers.
The designer Dave Smith is the man who built the Prophet 5 in 1978, the first analogue synthesizer with a memory to store sounds in. He also was at the cradle of the development of MIDI in 1982. In 1983, during the NAMM Show, the operation of MIDI was demonstrated for the first time in practice when a Sequential Circuits Prophet 600 was connected to a Roland Jupiter-6.
A few weeks ago the Sequential Prophet X became available in Europe and then I started following the experiences of the first users in the USA. It soon became clear the Sequential Prophet X was regularly compared with the Roland V-Synth and to a certain extent also considered his successor (although you could also say this about the sampling engine of the waldorf QUANTUM).
The Roland V-Synth came on the market in 2003 and in 15 years' time the technology has obviously gone foreward. The V-Synth has, for example, a sampling memory (RAM) of 50 MB (4 years later the V-Synth GT already had 64 MB RAM). The Sequential Prophet X has a built-in SSD (which is also RAM) of 265 GB with 150 GB of factory samples (sound collections from the renowned 8DIO) and also has space for 50 GB of user samples. The Sequential Prophet X therefore has 4000 times more storage space than the V-Synth and 3125 times more storage space than the V-Synth GT.
Due to the small RAM memory in the V-Synths it was not possible to use large sample banks with multiple samples per key (eg a well-sampled piano). They are mainly known for 'sample mangling' of 1 or a few samples. Sample mangling is real-time editing and distorting individual samples and then using them as a digital oscillator in the synthesizer engine of a V-Synth. The main goal is to generate very expressive and unheard sounds that are not possible with synthesizers that work with classic oscillators (analogue and / or digital).
However, with the Sequential Prophet X you can load large sample banks with a size of more than one GB and process them as a whole with sample mangling and then use it as a digital oscillator in the synthesizer engine of the Prophet X. It goes without saying this gives a completely different result than just using a few separate samples as in a V-Synth. And if that is not enough, you can not only load 1 but 2 large sample banks at the same time and use them as a digital oscillator, together with 2 classic digital oscillators that are present. And all this is sent through real analogue filters (with resonance!) and there are also 2 digital effect processors available.
But you can also use the Sequential Prophet X as a very extensive multisampler (with the 150 GB of very realistic sample banks of 8DIO) by simply not using the synthesizer part and the filters.
So in summary, the technology in this machine is also something that was not yet present in my collection and like the waldorf QUANTUM it can be considered as a digital outsider.
Whether the Sequential Prophet X, like the waldorf QUANTUM, can also be considered an instant classic, I dare to doubt. The concept of the Prophet X is in itself renewing, but the design and the construction quality is clearly a whole lot less than with the QUANTUM, while the sales price of both machines is rather close to each other. But the expensive price for the Sequential Prophet X is mainly explained by the presence of a 150 GB large sample library of 8DIO, I suppose this makes up for a third to half of the sales price.
8DIO is also planning to release a lot of additional sample banks for the Prophet X and it will also become possible to import your own samples. At the moment, the following add-ons are already available:
The Last Prophet 5: all factory sounds of the Prophet 5, sampled from Dave Smith's personal Prophet 5 (a machine that is still in perefct condition and also the last one ever built) - size 1,7 GB
CP70 Electric Grand Piano: a very accurate sampled YAMAHA CP70 electric piano - size 2,98 GB
So in time, the Sequential Prophet X should become a full-fledged contemporary sampler. And that is a long time ago because all synthesizer manufacturers have actually left the digital sampler all the way down in the last 20 years, because everyone uses computer software to sample (of course I do too).
For me it is a real relief to have a machine with a keyboard and a very extensive collection of built-in samples, without having to load sample banks on your computer. And then you can use those samples as oscillators in a synthesizer, I think it's great!
October 13, 2018
New in my synthesizer collection:
waldorf - QUANTUM

On May 29, 2018 I wrote in my post about the 'ARTURIA - MatrixBrute' synthesizer:
"Very ocCASIOnally an analogue synthesizer is released and you immediately feel that it could become an instant classic"...
All I have to do to make this sentence perfect for the waldorf QUANTUM is to change the word 'analogue' to 'digital', because the waldorf QUANTUM is guaranteed to become a legendary digital synthesizer because it is so innovative.
Actually, I ordered it on the same day as the ARTURIA Matrix Brute, but it took until today before it could be delivered. Sinds de introductie van het prototype in 2017 werden er wereldwijd nog maar enkele tientallen machines geleverd (eg still none in the USA). They are completely assembled by hand in Germany and apparently this is not going very smoothly.
If you look at the machine, it is indeed a typical example of German thoroughness. I also like the design very much and of course the high-resolution touch screen immediately catches the eye. And if you look at the side you see an aluminum frame with very nice piece of wood, it looks like weathered driftwood.
But of course I chose the waldorf QUANTUM not only for its beautiful appearance, but for its technical possibilities. It is a unique digital synthesizer with 4 ways of generating sound:
waldorf-style Wavetables with the latest additions from Nave, including speech synthesis and wavetable generation from audio
Classic Synthesizer Waveforms with multiple WAVES for an ultra fat sounds right out of the oscillators
Granular Sampler with multi sampling plus traditional sampling mode
Resonator for virtual sound sculpting
The waldorf QUANTUM is 8 voice polyphonic with 3 oscillators per voice, where each oscillator can be 1 of the 4 above-mentioned ways of generating sound (freely selectable). The waldorf QUANTUM is also called the new PPG Wave because the PPG Wave from 1981-87 was the first digital synthesizer with wavetables, designed by Wolfgang Palm who later also founded the company waldorf.
I have to admit that this is not a machine for beginners in sound synthesis because you have to delve in 4 very different forms of sound synthesis to find your way. But of course this also makes this machine the flagship of waldorf because the sound possibilities are very impressive. Especially for making soundscapes and very complex sounds. It is really a synthesizer for sound designers and use in the studio and less suitable for eg live musicians who need a large number of standard synthesizer sounds.
Btw, actually the waldorf QUANTUM is not an entirely digital synthesizer but an analogueue and digital hybrid synthesizer. This is because he also has 2 real analogueue 12 dB / 24 dB lowpass filters per voice.
And what is also worth mentioning: the waldorf QUANTUM can also be controlled via MIDI with polyphonic aftertouch, so I can also play it very well via my ROLI Seabord RISE 49!
September 25, 2018
New high-end reference monitoring in the studio:
GENELEC
106419

A
GENELEC
106419

A =
4 x

GENELEC - 'The Ones' -

8351

A SAM™ Studio Monitor


5 x

GENELEC - 'The Ones' -

8331

A SAM™ Studio Monitor


2 x

GENELEC -

7360

A SAM™ Studio Subwoofer


2 x

GENELEC -

8320

A SAM™ Studio Monitor

Indeed, as good as the entire reference monitoring in the studio was replaced by the latest series GENELEC 'The Ones' + 2 new GENELEC subwoofers!

After listening to my previous GENELEC monitors for almost 13 years it was time to take a new step in offering high-end reference monitoring. Both the entire old GENELEC 5.1 monitoring and the large GENELEC stereo set have been replaced by the latest GENELEC loudspeaker technology.

There are some very big differences with the previous GENELECs that I had, in order not to become too technical, I like to refer to the website of GENELEC where everything is explained in great detail

In summary, there are 2 big differences between my previous GENELEC monitors and the new GENELEC 'The Ones':
the previous were two-way systems that behave like a standard loudspeaker with the typical behavior of a two-way system with time differences between low and high tones. The new 'The Ones' are three-way systems that behave like a point source where there are no time differences between low, medium and high tones.The result is a much more stable and natural sound image without phase shifts
the previous ones had to be adjusted manually to adapt to their placement in the listening environment, which is obviously not very accurate. The new 'The Ones' are SAM, which stands for 'Smart Active Monitors'. This means that they have a (digital) built-in calibration system that is controlled by the GLM 3 software, where GLM stands for 'GENELEC Loudspeaker Manager'. Together with a measuring microphone and a GENELEC network adapter that communicates with the SAMs via Ethernet, the SAMs can be automatically calibrated by the GLM software. The new 7360 subwoofers are also SAM so these can also be calibrated by the GLM
Indeed the sound of 'The Ones' is much more accurate than I was used to, which can sometimes be very surprising. Not only do you hear much better how well something sounds but especially how bad something sounds and sometimes that can be quite confrontational, especially for people who are not used to this.
But for me the big revelation is especially the GLM software that controls all SAMs!
Below you can see a screenshot of my complete GENELEC setup in the GLM 3 software. This is called a 'group' in the GLM and several groups are available via the 'tabs' at the top of the window:
This is the last group in the row of tabs and is therefore group 6. I specially created this group to be able to display the entire 9.2 setup, but this group is not actually used in the daily operation of the studio.
Below you see the 5 other groups that I have made, the title shows what type of group it is and which SAMs are active:
Group 1: 5.2 with 5 x 8331 + 2 x 7360:
Group 2: 2.2 with 2 x 8331 + 2 x 7360:
Group 3: 2.2 with 2 x 8351 (Front) + 2 x 7360:
Group 4: 2.2 with 2 x 8531 (Synths) + 2 x 7360:
Group 5: 2.2 with 2 x 8351 (Synths) + 2 x 7360 - Zetel (= Seat):
Each group was fully calibrated with the measuring microphone at the desired listening position. Every time you choose a group, the GLM switches the right SAMs on or off and immediately sends all calibration data to the active SAMs. This also applies to the subwoofers, so per group the subwoofers are immediately set up to work together with the other SAMs that are active at that moment.
I installed the GLM on a MacBook Air that only serves this purpose and is always active. This makes that MacBook Air actually a very intelligent monitor controller. With a mouse click on the tab for the desired group a fully customized monitor set-up can be activated.
A typical practical example is the frequent switching between group 2 and group 3 because this is actually switching between listening to the 8331s while sitting down and listen to the 8351s while standing upright (and again the 7360 subwoofers get automatically configured for the 8331s or the 8351s).
But I can also switch to group 4 with a second set of 8351's that are specifically aimed at a standing position at the back of the studio behind the synthesizers (and again the 7360 subwoofers get automatically configured for this set of 8351s). But that same group also exists as group 5 in the version 'Seat' that was calibrated with the measuring microphone at ear height sitting in the seat at the back of the studio.
Anyone who has read all of the above carefully and then looks at the title of this post will notice that there are actually 2 loudspeakers missing in the GLM, namely the 2 x 8320's that are mentioned last in the title. These are also SAMs, so they could have been included in the GLM network, but I deliberately did not do this. The 2 x 8320's were calibrated with the measuring microphone with the GLM software, but afterwards I saved the settings in the speakers and then removed them from the GLM network. This ensures that this set is always active and thus not always controlled in real-time by the GLM software.
These 2 x 8320 I then connected to my GraceDesign m906 monitor controller as a 2nd monitor set, while the main monitor set are all the other GENELEC SAMs that are controlled via the GLM. In practice, this is very useful because I can easily switch between the large 2.2 set (group 3) and these 2 small ones without using the GLM on the MacBook Air when standing upright with the GraceDesign m906 remote controller.
I think it is fair to say that this new high-end reference monitoring is quite unique in the way I have executed it. As far as I know Delta Music Belgium is the only studio In the Benelux where this is possible with 5 x 8331s + 4 x 8351s + 2 x 7360s subwoofers.
But the GLM 3 software can manage up to 45 GENELEC SAM monitors and subwoofers for very large multichannel or 3D immersive audio setups, so actually my setup is rather small.
Of course a picture says more than a 1000 words, so this is a provisional photo of the new Control Room with 'The Ones' and the new RAVEN CORE STATION that replaced the ProControl:
At a later date I will of course replace all photos on the website with new photos, including the background photo with the ProControl which is still on every page of this site. Also the equipment lists still need to be be updated.
It was a very heavy investment to do but I am convinced that I will be able to carry on with it for the next 15 years!
June 28, 2018
A new heart for the studio!
Pro Tools | HDX3 + Pro Tools | Ultimate

After having had a Pro Tools HD system for 13 years, I finally switched to Pro Tools HDX hardware!
My old faithful Protools | HD6 Accel system with 6 x Pro Tools | HD Accel cards was replaced by 3 x Pro Tools | HDX cards that have approximately the processing power of 15 of the old Pro Tools | HD Accel cards. Compared to the past my DSP processing power is therefore approximately tripled.
The picture above is therefore not entirely correct, actually it should be 3 x Pro Tools | HDX cards are instead of 2, but such a photo turns out not to be found. Also the tower with AVID HD I/O interfaces is not correct because I have not replaced my faithful digidesign 192 I/O interfaces with new AVID HD I/O interfaces. This also made little sense because the majority of my digidesign 192 I/Os are 192D digital versions that are in no way different from the new ones. I also bought an extra digidesign 192D cheaply. Only my digidesign SYNC I/O was replaced by a new AVID SYNC HD I/O (the top one on the picture).
With the new Pro Tools | HDX cards also came the latest Pro Tools | Ultimate software, so I also said farewell to my Pro Tools 10 | HD software. This also means that all my TDM and RTAS plug-ins are no longer working, but in the meantime there are already more AAX and AAX DSP plug-ins available than the TDM and RTAS plug-ins I have ever had.
And as I said earlier, I also have now definitively said farewell to my ProControl with 48 faders, because it was replaced by a RAVEN CORE STATION and 3 x RAVEN MTi2 27 " touch-sensitive screens with 10-fold 'multi touch'.
So an era is coming to its end, but at the same time it is also the beginning of a challenging new era in the history of Delta Music Belgium. Upgrading my Pro Tools system is only the beginning of this, because there is more great news coming up, but more about that later...
May 29, 2018
New in my synthesizer collection:
ARTURIA - MatrixBrute

Very ocCASIOnally an analogue synthesizer is released and you immediately feel that it could become an instant classic. I think the ARTURIA Matrix Brute undoubtedly belongs in this category and should not be missing in any synthesizer collection.
Unlike most analogue synthesizers, it does not come from the USA but from France (Grenoble) and this machine is the flagship of the 'Brute' series of analogueue synthesizers (MiniBrute, MiniBrute 2, MiniBrute 2S, MicroBrute, DrumBrute, RackBrute).
It is an analogue synthesizer with digital control as there are many available and it is also immediately clear that ARTURIA has taken a close look at moog, because the front panel can be tilted up and be put in different positions, just like the Minimoog and moog Voyager.
But in terms of sound possibilities, this synthesizer goes much further than the above-mentioned moog's because ARTURIA has tried to make a kind of 'Best Of' of many analogue synthesizer designs. Without going too far in technical details, the following characteristics can not be found on any other synthesizer:
it has both a Ladder Filter (moog) and a Steiner-Parker Filter (which can be found mainly in modular synthesizer modules) and both filters are also much more extensive in terms of possibilities than standard versions on other synthesizers
most analogue synthesizers have a noise generator that usually generates only white noise, the Matrix Brute has white, pink, red and blue noise, which of course offers many more possibilities for creating experimental and percussive sounds
on the front panel of course the 16 x 16 button matrix requires all attention, on this matrix each button can also have 4 different colors. You can use the matrix to easily select memory spaces, or as very extensive modulation matrix or to program and control the 64-step sequencer with a very clear visual feedback
ARTURIA has really tried to bring an old concept to the 21st century with some very ingenious additions and the result is a desktop synthesizer with almost the same possibilities as a modular synesizer system thanks to the unique 'modulation matrix'.
You could also perfectly integrate the MatrixBrute in a truly modular synthesizer system, because on the back it also has 12 CV inputs and 12 CV outputs. But starting with a modular synthesizer system (eg with Eurorack modules) is more or less the same as opening a bottomless pit and I would prefer not to fall into such a pit:
>
I have the ARTURIA Matrix Brute for some time present in the studio and the only thing I can say is that this synthesizer, in addition to the standard features of a traditional analogue synthesizer, opens up a whole new world of sound possibilities that I did not think was possible. And it is also my heaviest synthesizer because it weighs more than 20 kg!
Below another picture and for the record: the hands you see are not my hands because my hands carry a silver ring on each finger (the photo is an official photo of the ARTURIA website)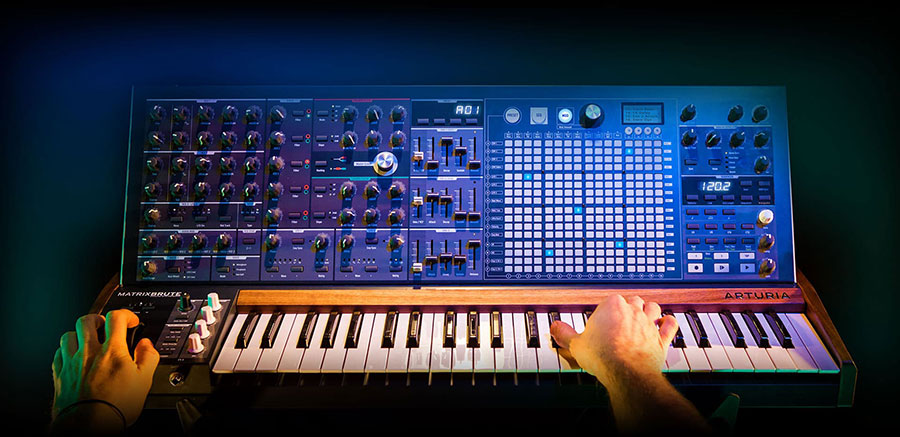 April 30, 2018
New in the studio
(and perhaps the first in the Benelux):
Slate Media Technology - RAVEN CORE STATION

Since 1999 I have a digidesign ProControl as remote controller for Pro Tools HD. First this was only a ProControl Main Unit with 8 faders, later I expanded it with 5 extra ProControl Fader Packs to the largest possible configuration with 48 faders.
This is a picture of my ProControl:
This of course remains a beautiful machine with 48 'flying faders' that still works well. But in the end it is almost 20 years old and since 2013 it has not been supported anymore by the latest versions of Pro Tools. Furthermore, it is also true that this mixing table is actually a huge computer mouse and only serves to control the Pro Tools software. Therefore, it has no effect on the sound quality in the studio as would be the case with a standard analogue or digital mixer.
At the same time we have been in the age of the iPad's and touch-sensitive screens for a long time and I also think this is a very handy way to deal with software. Therefore the logical evolution is also control Pro Tools with a touch-sensitive screen instead of a mouse. This has been possible for a long time with an iPad, but on such a small screen, this is still a bit of a mess.
However, Slate Media Technology has been building large touch-sensitive screens for some time, eg the very expensive RAVEN MTX, a 46" touch-sensitive screen:
However, the latest technology is the RAVEN MTi2, a 27" touch-sensitive screen with 10-fold multi touch:
This means that the position of 10 fingers on the screen is scanned simultaneously, so you can control 10 faders at the same time (with the older RAVEN MTX this is 12-fold so for example a second person can use 2 extra fingers).
And that's how we get to the RAVEN CORE STATION, because these are 2 Raven MTi2 screens in a specially designed and in mind also very beautiful studio furniture designed by ZAOR. As a result, the 2 screens next to each other have 2 x 27" = 54" width (versus 46" at the RAVEN MTX) + you have the Pro Tools Mix window on one screen and the Pro Tools Edit window on the other screen, which is not possible with the RAVEN MTX.
The result therefore looks like this:
For several days now I have installed the RAVEN CORE STATION in the Recording Room (with a Mac mini with Pro Tools 2018.4) to thoroughly test everything and to get used to working with the touch-sensitive screens:
Everything works fine and my first impressions are very positive. Even though it is rather difficult to get everything done with both hands on the screens instead of with one hand on a trackball. You get at least strong arms and shoulders!
Btw: the Slate Control is always shown on the official photos of the RAVEN CORE STATION:
Slate Control is an analogue monitor controller that allows you to control three stereo monitor pairs.However, I did not purchase this because I use 5.1 surround monitoring + additional stereo monitor pairs.To control all this, I have been using a GraceDesign m906 5.1 monitor system with remote control for many years now:
My RAVEN CORE STATION has a metal cover on the right to cover the hole in which the Slate Control can be mounted, I'm going to try to install the remote control of my GraceDesign m906 inside that hole.
The next big step is to remove my 48 fader ProControl and install the RAVEN CORE STATION in the Control Room. Wat er verder met de ProControl gaat gebeuren weet ik nog niet, maybe I'm putting a slimmed-down version with 24 or 32 faders at on the side of the Control Room or maybe will I sell it completely.
Actually, this is not all news about the RAVEN CORE STATION, because within a month, Slate Media Technology will launch 2 additional RAVEN CORE STATION 19 "'side cars' each providing room for 9U of 19" equipment. So in the end I will expand the RAVEN CORE STATION even further, this is a sneak preview of how the RAVEN CORE STATION will eventually look like:
Copyright © 1995-2023 by Delta Music Belgium - Pro Tools | HDX Studio - Rummenweg 30 - 3800 Sint-Truiden - Belgium. All Rights Reserved
All product names, logos, and brands are property of their respective owners.
All company, product and service names used on this website are for identification purposes only.
Use of these names, logos, and brands does not imply endorsement.