News archive 2005 - 2009 (studio in Mortsel)
June 25, 2009
In memoriam
Yasmine - Hilde Rens
03/03/1972 - 25/06/2009
January 11, 2009
Delta Music is building a new studio
way back in Sint-Truiden!
It may take another year until the construction will be finished,
maybe I won't be able to move until 2011..

The new studio will be a lot bigger then the present studio is, with multiple recording rooms, a big Pro Tools | HDX Control Room,
a separate machine room, a relax- and reception area, a sunbathing terrace, garden, etc...
But... the present studio will stay in business until the new studio will be finished!
And because I don't want to raise my prices for the new studio...
it is only logical to temporarily lower my recent prices...
So...
Until the new studio is finished:
all studio & mastering prices - 50%!
July 21, 2008
Today, July 21, 2008...
it's the Belgian National Holiday !
To prove not all Dutch speaking Flemish people have a problem with our French speaking compatriots... I launch today...
the complete French version of the Delta Music Web Site!
Ou en français:
Aujourd'hui, le 21 juillet 2008...
c'est la Fête Nationale de la Belgique !
Pour prouver que tous les Flamands n'ont pas de problèmes avec nos compatriotes francophones... je lance aujourd'hui...
la version francophone complète du site Delta Music!
December 20, 2007
Delta Music @ MySpace.com !
Click on the link:
https://www.myspace.com/deltamusicbelgium
November 20, 2006
Klara Price of the Public 2006
Last weekend the Klara Price of the Public 2006 was given to this CD:
Debussy - Brewaeys: "Préludes - recomposition for symphony orchestra"
performed by The Royal Flemish Philharmonic and conducted by Daniele Callegari
My best congratulations to Luc Brewaeys!
(and maybe it is nice to know this CD was mastered by Marc Schellekens :-)
September 05, 2006
(triple) Massive (heart) Attack !
It's no joke... It's really no joke... I suffered a triple 'massive' heart 'attack'...
On Friday August 18, 2006 I was traveling by car with my good friend Wim to Pukkelpop in Hasselt to go and see the Massive Attack concert that night, but... we never arrived at Pukkelpop... On the road in the car near Herentals I had my first heart attack, though I didn't know it was a heart attack at that point in time. I mainly suffered heavy stomach pains, I had to hyperventilate and in 30 minutes time I did sweat out almost all the water present in my body. After some time I managed to calm down a bit by doing some meditation exercises, we slowly drove back to Mortsel and I went to bed, hoping the pain would ease by it self...
The next morning I could not drink or eat at all and I presumed I had a blocking of my digestive system, so I tried full saturday and sunday to get my digestive system working again by taking in some laxatives. But it did not help at all, even drinking a simple glass of water wasn't possible anymore without suffering terrible pains in my stomach, so in the end, on Monday August 21 I decided to visit my General Practitioner... She found my story very strange, she ordered some blood tests and a few hours later I received the word I needed to go immediately and urgently to the St. Jozef hospital in Mortsel for further medical testing. During the evening it then became clear I had a heart attack for 3 days, only half of my heart was still working, the lower bottom half was completely immobilized! So the heart specialists in Mortsel decided I needed to be transported 2 days later on Wednesday August 23 to the Middelheim hospital in Antwerp for a coronarography to see what was actually going on inside my heart...
But this never happened, because on Tuesday evening August 22 around 23h I had a similar attack as I had in the car on Friday August 18, so suddenly I was suffering a second heart attack on top of the first one! The result was I needed to be transported in high emergency by Klini-mobile + MUG to the Middelheim hospital in Antwerp. On the scan below you can see on the identification tag I arrived in the Middelheim hospital on Wednesday 23/08/2006 at 01:10u:
Here between 02h en 03h a team of emergency heart surgeons performed a coronarography and they could see both coronary arteries were blocked completely. Then the surgeons performed a balloon dilatation to open up one of the blocked coronary arteries and they did place a stent inside one coronary artery. The second blocked coronary artery was not treated, as this was much too dangerous to do in one go and was postponed for 3 to 4 weeks...
During the afternoon of Wednesday 23 August 23 I was transported back to the Intensive Care Unit of the St. Jozef hospital in Mortsel by ambulance to recover and heal further. But this also did not happen, because around 18h I suffered a third heart attack (the stent was closed or blocked again) so again I needed to be transported in high emergency by Klini-mobile + MUG to the Middelheim hospital in Antwerp where the same team of emergency heart surgeons performed a second coronarography + balloon dilatation. But this time it was really up or down and in the end the surgeons decided to open up both coronary arteries and to place 3 additional stents. Without being funny: on this Wednesday August 23 I saw death 2 times straight in the eyes, according to the surgeons I passed thru the eye of needle twice and I may say I had a lot of luck two times...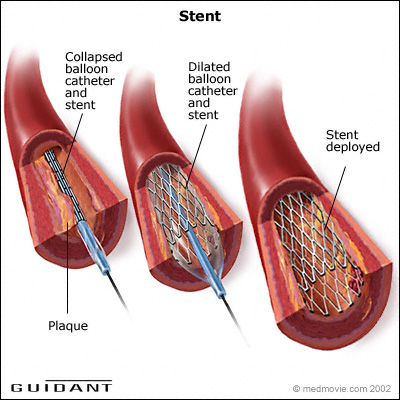 Of course the surgeons did not take the risk anymore to transport me back to the Intensive Care Unit at the St. Jozef hospital in Mortsel so I stayed for 4 days at the Intensive Care unit in the Middelheim hospital, only on Friday August 25 I was allowed to go to a room at the department of cardiology. I stayed there the whole weekend and only on monday August 28 I was allowed to go back to the St. Jozef hospital in Mortsel to heal and rest further.
And today, friday September 01 I was finally dismissed from St. Jozef hospital , so I'm back in the studio at last!
To end this post I would like to thank very much the following peoples:
- the heart surgeons, the nurses at the ICU and the nurses at the department of cardiology at the Middelheim hospital in Antwerp
- the heart specialists, the nurses at the ICU and the nurses at the department of cardiology at the St. Jozef hospital in Mortsel
- the nurses en medics of the Klini-mobile and the MUG of the Middelheim hospital in Antwerp
- my beloved General Practitioner, she was even more frightened then I was
- and of course my mum + brother for all the support and good care!
I'm still alive, that's wonderful and I'm very thankful for that, but it still remains such a shame I did miss the Massive Attack concert at Pukkelpop!
August 01, 2006
Today August 01, 2006...
I launch my new Delta Music Web Site...
so the new Delta Music - Pro Tools | HDX Mix &
Mastering Suite...
is finally 100% 'alive and kicking' again!
Of course the attentive viewer already noticed the picture above is... actually my old studio !
But the new studio is hidden under it, so actually it is a 'before-and-after' picture
Also the designing and adaptation of my new web site took much longer then initially intended... but this has mainly to do with the fact that the past month of July was the warmest month of July in recorded history, on some moments the temperature reached 35°C... The result was that due to the heat you could only do half of the work you would normally do ... But... to be honest I must confess I also just enjoyed the sun a few days in stead of working at the new site, sometimes the HTML really made me sick and then I literally needed to run for salvation to Fort IV for a sunbath. But finally the new site did get finished... and actually I am quite pleased about it...
Wow... I would never had imagined it would take a full 8 months to refit my studio to Pro Tools | HDX and 5.1 Surround sound... Since December 01, 2005 Delta Music is closed for the installation of a technically brand new Pro Tools | HDX Mix & Mastering Suite, but... IMHO it is still better to do everything slow and good + do rigorous testing, then to install everything fast and hasty with maybe some mistakes included :-) And in the end... I can really say that it has become quite OK, I did everything by myself, so I could choose, plan and execute everything according to my personal wishes and the highest technical standards!
The new Pro Tools | HDX 7 Accel + almost all TDM & RTAS Plug-ins available performs excellent for quite some time and is at this point in time pretty 'endless' in DSP calculating power (I any case I still did not find the limit yet), it is a thru relief to have so much potential present! In the end this new Pro Tools system is 7 times more powerful then mu old Pro Tools 24 MIX 4, or 7 x 4 = a Pro Tools 24 MIX with 28 cards, it does give you an idea about my new little Pro Tools rig :-)) So it is the biggest configuration technically possible to build and this makes it quite exclusive and unique in Europe! (and actually in the whole world...)
I also did a lot of thinking about a grand opening... but anyone who has ever been here knows the place is not that big, so I think and presume it is not so practical to invite all my clients and friends on 1 day, not even with the use of party tents on the parking lot and in the gardens, etc... So in the end I decided to do no 'open day' ... but actually to do a full 'open month' !
The principal is very easy: anyone who would like to come over here to watch and listen may send me a mail and then we will arrange a meeting during the month of August for a demo, a chat and a drink:-)
This also means I will not take on or start big productions during the coming month, this will start again artound autumn when the busy days of launching my new studio will be over + I also would like to take a few days of vacation and/or visit a Summer Rock Festival, f.e. Massive Attack at Pukkelpop :-)
The next days, weeks and months will also follow an e-mail campagn, a big publi-article in Meet Music Magazine and even a real contest in cooporation with Poppunt vzw & Poppunt Magazine where you can win a free mix and mastering at Delta Music - Pro Tools | HDX Mix & Mastering Suite kan winnen!
* * * * * * *
On Juli 3, 2006 Delta Music celebrated it's 11th year in business...
I am ready for the next 11 ones...
and this time with the Pro Tools | HDX of my dreams!
* * * * * * *
July 03, 2006
The histoty of the Delta Music logo
I founded the company Delta Music - Midi Studio & Music Composing at July 03,1995 so today I celebrate my 11th birthday ! But even before that I already used the name Delta Music, I used this name the first time in 1984, I was 17 then and I started to buy my first synthesizers and sequencers, so actually I can also celebrate my 11th birthday today :-)
For the ocCASIOn I did some research today in my archives and I found a few interesting old documents! Actually I was just looking for fun to try to find the oldest Delta Music logo possible to find and I think I found it... On a paper sticker on a very old briefcase I used as my schoolbag during the Eighties... Today what is left is only an old, smudged and dirty peace of paper, but you can still see the old logo very well:
A few years later it became a real 'vinyl' sticker:
I also found the ' dossier' from 1995 for a credit appliance at the KBC Bank, this is how my logo and first 'house style' looked like:
And this is my first 'letterhead' from the same period:
And I also had an rubber stamp:
Starting from 1999 it became Delta Music - Pro Tools Mix Suite & High Definition CD/SACD/DVD Mastering with this logo:
A little bit later came the '4 divisions' + the addition of the Pro Tools logo: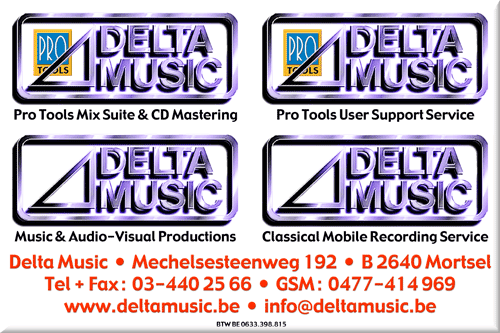 And starting from this year it will become Delta Music - Pro Tools | HDXMix & Mastering Suite with his 6 divisions and comes the addition of the beautiful harebell...
February 22, 2006
Publicity for use in Pro Audio magazines
February 12, 2006
And this week...
after more then a half year of planning
and preparations...
I finally welcomed my brand new...
Pro Tools | HDX 7 Accel !
Here are some first impressions...
These are 2 boxes filled to the top with Zaolla Silverline cables... and a third box is also already ordered...
And within a few weeks... this beauty will arrive!

January 29, 2006
Last week I received my new 'high definition'
analog & digital 5.1 surround active monitor system....
or 5 x GENELEC 8130A + 7060A Sub...
I already did some stereo listening tests and they sound... truly amazingly good !
What a definition & transparency... what a power... what a sound...
or said in one word... it's a real 'eargasm' ! :-))
I even like them so much I also bought a stereo set of the very small GENELEC 8020A
And also because I like the advertisement... "Young GENELEC, I presume?"
And next week...
I will receive my new Pro Tools | HDX1/2/3/4/5/6/7 Accel... what will it be?...
In any case a number between 1 and 7...
And some more pictures...
With speaker stand: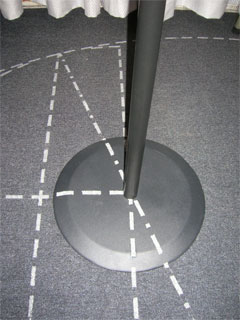 Without speaker stand:
Chaos...
January 17, 2006
Today...
I proudly present...
my new Delta Music-logo !
The beautiful flower is a Campanula Rotundifolia (or 'harebell' in English) and is only 1 cm. large...
I took the photograph myself in August 2005 at Fort IV here close-by in Mortsel.
This is the original photograph I used:
January 14, 2006
The 5.1 'surround star' in my new carpet is...
finished !
With blood, sweat and tears...
But correct within 1 mm according to the ITU/R-BS.775-1 standard...
And I still have all my fingers! :-)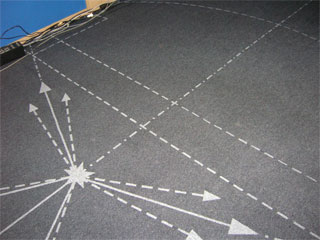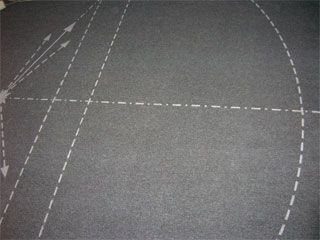 December 22, 2005
What you can do with a plan...
2 colours of carpet tiles...
a good and sharp knife...
and lots of super glue...
December 16, 2005
Yep, we have really started with the
refurbishment of the studio!
This cable spaghetti wil be replaced by Zaolla Silverline cable
August 13, 2005
This is the start of the Studio Blog
Copyright © 1995-2023 by Delta Music Belgium - Pro Tools | HDX Studio - Rummenweg 30 - 3800 Sint-Truiden - Belgium. All Rights Reserved
All product names, logos, and brands are property of their respective owners.
All company, product and service names used on this website are for identification purposes only.
Use of these names, logos, and brands does not imply endorsement.